The Ralph Engelstad Story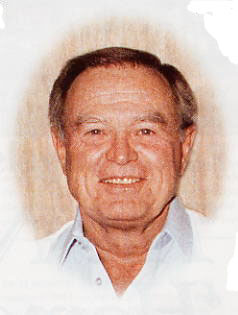 Ralph Engelstad was fresh out of Thief River Falls (Minnesota) High School in 1948, working that summer unloading rail cars. The older guy next to him turned out to be a University of North Dakota chemistry professor and future dean, the late Ben Gustafson. In the course of conversations, Ben learned Ralph had played goalie and encouraged Ralph to enroll at UND and go out for the UND hockey team.
The rest, as they say, is history. Ralph not only played as a goalie for the Fighting Sioux, but also received an offer to try out with the Chicago Blackhawks. Ralph, after two years at UND, joined a number of teammates in California playing for the San Bernardino Shamrocks and working construction. He realized the importance of completing his UND education, returned, and earned a bachelor's degree in commerce in 1954. Shortly after graduation, Ralph and Betty Stocker of East Grand Forks were married. Their daughter Kris and her husband have two children, Sean and Erin.
Ralph's work ethic and initiative were established early in his life. Another of his experiences in construction was assembling steel buildings sold by Agsco, where his father, Chris, was a salesman. The work was usually on farms and Ralph and his co-workers often slept in their cars and worked from sun-up to dark.
Ralph started Engelstad Construction in Grand Forks in the 1950s, and the buildings he constructed are still standing and serving well. In the 1960s he looked for opportunities to expand his horizons. His choice: Las Vegas, Nevada -- the relatively small gambling city in the desert, but with a very active housing market and good prospects for population growth.
Ralph, willing to take a risk, became owner of real estate in north Las Vegas known as the Thunderbird airport. In 1967, the late Howard Hughes wanted this land and Ralph was willing to sell. This gave Ralph the capital to acquire a small hotel and piece of land a short distance from the Flamingo Hotel and across the street from Caesar's Palace. His vision, however, was an entirely new hotel and casino. The Imperial Palace opened on the site in 1979. His internationally renowned auto collection opened three years later. The Imperial Palace, expanded to over 2,600 rooms, was once the largest privately owned hotel in the world.
Ralph Engelstad, who Earl Strinden, former UND Alumni Association Executive Vice President, called "the most outstanding and successful entrepreneur to graduate from UND in its entire history," continued to build his empire. It included numerous non-gambling enterprises and ownership of property throughout the nation. He was the major principal in building the NASCAR race track near Las Vegas which accommodated 109,000 fans and parking for 65,000 vehicles. He also built the Imperial Palace Hotel and Casino in Biloxi, Mississippi.
The legends about Ralph Engelstad are many. When Ralph decided to start his own construction company, he approahced two local banks for a $2,500 loan. He was turned down. The late Al Holmquist, President of Valley Bank, made the loan. Ralph never forgot; and for as long as Valley Bank was an independent bank, it held sizeable deposits for Ralph. In appreciation, Ralph some years later gifted Holmquist a new Cadillac. John Cook, who succeeded Holmquist as bank president, became a close and trusted friend.
What is the secret to his success? His standard answers to this question are, "The harder I work, the luckier I get," and "no dream comes true until you wak up and go to work."
©SiouxSports.com copyright Jim Dahl 1994-2005 | Privacy Policy | Not affiliated with UND